Upcoming Events
Philanthropy & Football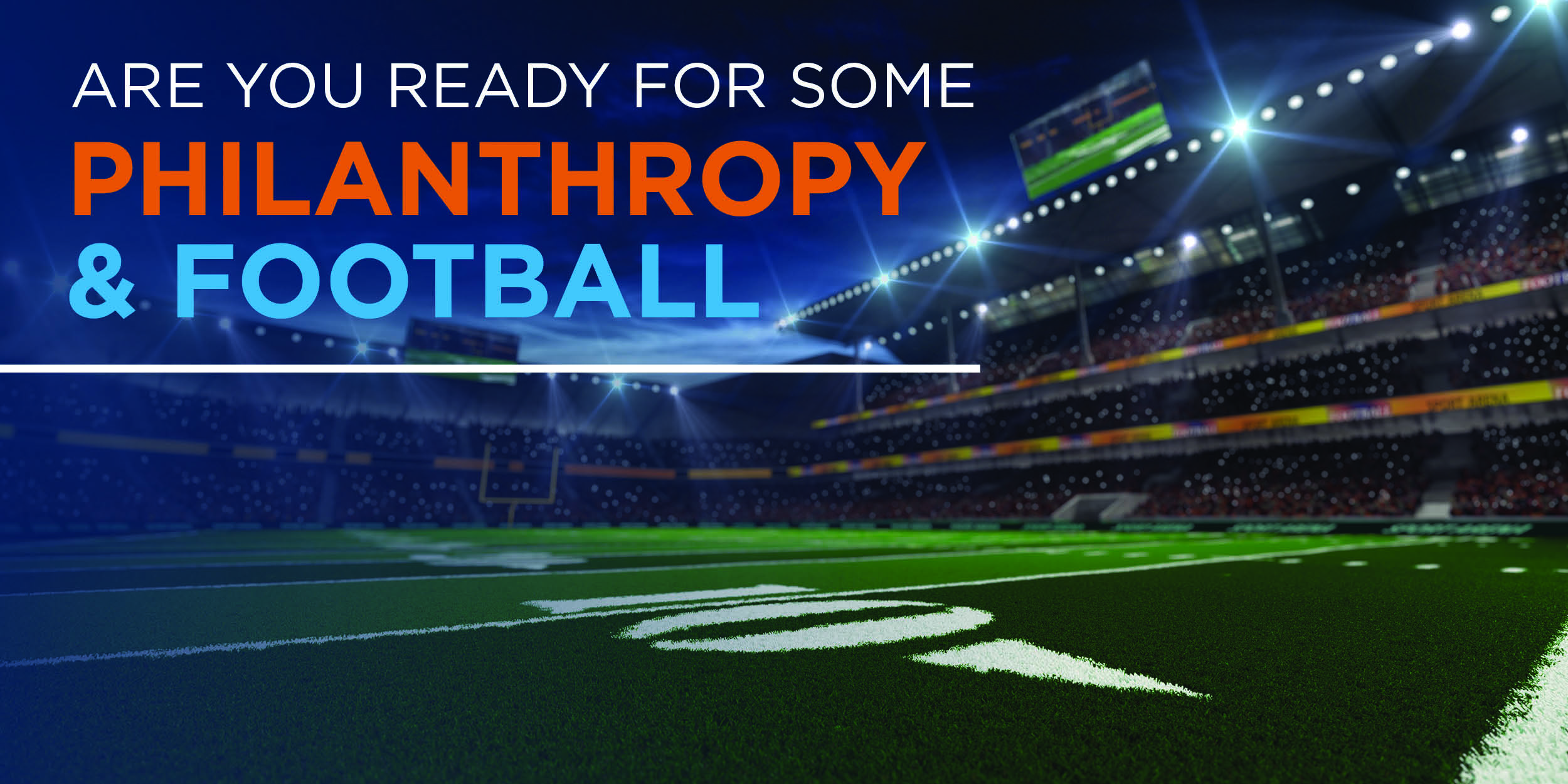 Monday, September 19
6:00 pm - 9:00 pm (EDT)
Wiss, 100 Campus Dr. Suite 400 West, Florham Park
Jewish Community Foundation of Greater MetroWest's Professional Advisor Network (PAN) and Federation's Business and Professional Network (BPN) team up for an evening of football, networking, and philanthropy! Hear from Christina Cahill, of Polsinelli's Strategic Nonprofit Solutions team, present on non-cash donations. Stick around for networking, food*, and the Titans v. Bills football game.
Attendees of in-person events and programs must be fully vaccinated and be able to provide proof of vaccination. Masks are optional. If you are not feeling well, please refrain from attending.
*Light dinner (football fare and beer) will be served. Kosher dietary laws observed.
Questions? Please contact Yaffa Karp at ykarp@jfedgmw.org.


Christina N. Cahill focuses on advising on the tax aspects of charitable giving, philanthropy and representation of domestic and international nonprofit and tax-exempt organizations. Christina is a member of the Strategic Nonprofit Solutions team, which helps nonprofits and other social impact-oriented organizations and individuals solve their most crucial strategic, administrative and development challenges. She provides counsel and education on qualifications for tax-exempt status, board governance practices and policies for financial and legal compliance. With deep experience in tax-exempt organization issues and management, state regulatory compliance requirements, and donor advised fund (DAF) legal administration, Christina is passionate about providing a personalized approach to organizations and individuals to allow clients to focus on maximizing philanthropic impact.
Christina also leverages her background in mergers and acquisitions, litigation and complex government matters to provide strategic counsel to clients regarding corporate transactions and entity structuring. She has also worked with individual clients on estate planning, tax and property law aspects of trusts and estates, and estate administration. Before attending law school, Christina was a Teach for America corps member in New York City, where she taught fourth grade in the South Bronx.
---
Professional Advisors Network (PAN) Leadership:
Eugenia Yudanin, Advisory Chair, Orloff Lowenbach Stifelman & Siegel
Matthew Abrams, Sills Cummis & Gross
Gary Botwinick, Einhorn, Barbarito, Frost and Botwinick, PC
Larry Chodor, Wiss
Steven Fishman, Norwood Financial Group
Benjamin Lehrhoff, Bernstein
Mark Lewis, JP Morgan Private Bank
Richard Lipton, Lipton CPA Associates
Jean Mandell, Stephanie Sherman Associates
Harris Nydick, CFS Investment Advisory Services
Michael Schechner, Schechner Lifson Corporation
Jonathan Schwartz, Proskauer Rose LLP
Floyd Shapiro, Orloff Lowenbach Stifelman & Siegel
Anita Siegel, Siegel & Bergman, LLC
Sandra Weiss, J.P. Morgan Private Bank
Business & Professionals Network (BPN) Leadership: 
Becky Novin Cannon and Ben Lehrhoff, Division Chairs
Evan Schonfeld, NextDor BPN Chair
Robyn Laveman, Vice President, Pomegranate Campaign, Women's Philanthropy
BPN Committee:  
Matt Beck, Philip Bershad, Jason Black, Rachel Braun Scherl, Michele Fine, Marc Hausman, Casey Holstein, Deborah Jacob, Michael Kaplan, Sherri Langburt, Liz Liss, Jenna Ovadia, Mark Polson, Andrea Rosen, Adam Sandler, Zev Scherl, Alex Skibinsky, Brent Weisenberg, and Ari Wise
Past Events
Monday, October 18, 2o21
JCF'S PROFESSIONAL ADVISOR NETWORK PRESENTS: Jewish Future Pledge: Starting a Conversation
Moderated by Anita Siegel, Esq. Siegel & Bergman, LLC
Ed Beckworth, Partner, Bakerhostetler
Don Kent, Principal, Bernstein Private Wealth Management
Mike Leven, Founder, Jewish Future Pledge
Monday, June 7, 2021
JCF'S PROFESSIONAL ADVISOR NETWORK PRESENTS:
Leaning into Social Distancing: A Perfect Storm for Wealth Transfer
Featuring Thomas J. Pauloski, JD
National Managing Director of Bernstein's Wealth Strategies


Tom Pauloski, National Managing Director of Bernstein's Wealth Strategies group lead a provocative discussion on planning issues and strategies in the current environment. Among the topics that Tom addressed:
How the Democrats' tax proposals may impact wealth transfer strategies
Avoiding generation-skipping transfer (GST) tax on nonexempt trusts
Using private placement life insurance (PPLI) to mitigate portfolio income tax
JCF'S PROFESSIONAL ADVISOR NETWORK PRESENTS: LET'S TALK PHILANTHROPY
Thursday, November 19th, 2020
Finding Your Client's Inner Philanthropist: What Professional Advisors Can Contribute to the Conversation About Charity
Presented by Tamar Warburg, Esq. General Counsel for JCF
Featuring JCF staff of the Center for Strategic Philanthropy including Kim Hirsh, Michal Werner, Beverly Kestenbaum and Yaffa Karp
Thursday, November 5th, 2020
Flexibility Wins: The Case for Donor Advised Funds
Presented by Anita Siegel, Esq., Siegel & Bergman, LLC
Featuring: Mark Lewis, Managing Director, JP Morgan Private Bank - Michael Schechner, CLU, Schechner Lifson Corporation - Larry Chodor, CPA, Wiss - Matthew Abrams, Esq. Sills Cummis & Gross
Wednesday, June 10, 2020
Making Spiked Lemonade out of Lemons: Estate Planning in a Low Values, Low Interest Rate World
Presented by Jerome A. Deener, Fox Rothschild LLP and Anita J. Siegel, Esq. Siegel & Bergman, LLC
Spring 2020 PAN Series
Wednesday, April 29, 2020
Challenge or Opportunity? How the Life Insurance Industry is Responding to COVID-19 and Social Distancing
Presented by Steven A. Fishman, CLU, Norwood Financial Group, LLC and Michael R. Schechner, CLU Schechner Lifson Corporation
View a recording of this webinar
Wednesday, April 22, 2020
Come From Away- How To Succeed In Planning Your Estate Without Ever Entering Your Lawyer's Office
Presented by Gary R. Botwinick, Esq. Einhorn, Barbarito, Frost & Botwinick, PC and Anita J. Siegel, Esq. Siegel & Bergman, LLC
Intergenerational Family Philanthropy Series
November 13, 2019
Featuring Paula Gottesman and her daughters Archie and Sally
Location: RegentAtlantic
September 9, 2020
Featuring Leon and Toby Cooperman, their daughter-in-law Jodi, and their granddaughter Courtney
Location: Lowenstein Sandler LLP
Cybersecurity: What Should Keep You Up at Night?
May 22, 2019
The annual gathering of JCF's Professional Advisory Network members. The program included a cocktail hour and panel discussion on cybersecurity.
Panelists:
Jared Maples, Director, NJ Office of Homeland Security and Preparedness
Ileana van der Linde, Executive Director, Cybersecurity Awareness Global Program Lead, J.P. Morgan.
Moderated by Michelle A. Schaap, attorney, Cybersecurity and Corporate Law, Chiesa Shahinian & Giantomasi PC Attorneys at Law.
Location: JP Morgan
Summit, NJ