Join us May 12 at 6 p.m.
We are thrilled to announce our keynote speakers for the upcoming JCF Annual Investors Meeting: Oscar Munoz, Executive Chairman of United Airlines and Patricia Russo, Chairman of Hewlett Packard Enterprise. These nationally renowned business leaders will join JCF President Steve Levy for a panel discussion on how the focus on ESG (Environmental, Social, Governance) investments translates to action in the corporate boardroom.
Presentations by Investment Committee Chair Peter Langerman and sub-committee chairs Jeff Braemer, David Pulver, and Michael Weinstock.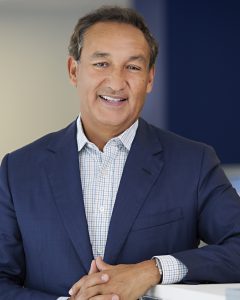 Oscar Munoz
Executive Chairman, United Airlines Holdings, Inc. United Airlines
Oscar Munoz is the executive chairman of the board of directors of United Airlines Holdings, Inc. He previously served as the company's chief executive officer from September 2015 until May 2020, where he played an integral role in introducing a new spirit of United. Under his leadership, United began its transformational journey to listen to and focus on customers, placing them at the center of the business. Click here for Oscar's full bio.
Pat Russo has spent her career in the computing and communications technology industries. She is currently Chairman of Hewlett Packard Enterprise (HPE), a global industry leader in providing information management solutions to businesses around the world. In addition to chairing the board of HPE, Pat currently serves on the boards of General Motors, where she chairs the Governance Committee as well as the boards of Merck, KKR and JUST Capital. Click here for Pat's full bio.